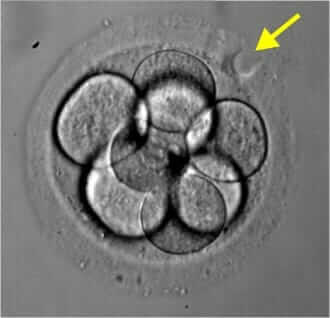 India Laser Assisted Hatching Expert to Beat IVF Failure
At WellSpring IVF & Women's Hospital, we provide laser-assisted hatching treatment in Ahmedabad, Gujarat, India which increases pregnancy and implantation rates in cryopreserved embryos. Don't worry it is a mild and secure way to weaken a small section of the zona pellucida, a tough protective coating.
Unless the human embryo hatches, Pregnancy could not happen. Assisted hatching is a safe and accurate technology which helps embryos to attach to the womb of the woman. This additional lab technique improves the efficiency of assisted reproductive technology procedures such as IVF and ICSI. An old method of hatching was not safe enough and the little bit complex, while LAH method is quick, simple and safe, so it's time to say goodbye to old acidic medium based hatching method.
Our Laser:
Tools play a vital role in current advanced medical fertility treatments. When it comes down to Assisted Hatching, this Test Tube Baby Center in Ahmedabad has the best-imported laser, which is predetermined by its programming with a high degree of reproducible accuracy, not dependent on the skill of the operator. Our advanced laser is attached directly to the microscope as an objective and is applied two or three times until a hole is made through the shell when the embryo is positioned for AH. Our laser is quick enough, it means very less time embryo spends outside the incubator.  
Indian Scenario:  
It is a good sign that many people have become aware for IVF treatment  by best IVF center in India 2018 and ready to spend their valuable money and time for a baby in India, but very less get the result, while many face IVF failure. Repeated IVF treatments without results may affect the health of a woman and can make her depressed. The main reason behind it is that embryos consistently fail to implant for unexplained reasons. Many Test Tube Baby Centers had done embryo transfer successfully but results in embryo implantation failure. Don't worry, WellSpring IVF center of Ahmedabad, Gujarat offers the most affordable and result driven, yet safe Laser assisted hatching treatment for many couples who are facing repeated IVF failures and struggling for their dream via Test Tube Baby treatment in Ahmedabad, Gujarat, India, and many other International patients.
India needs Laser Assisted Hatching Expert to beat IVF Failure, and WellSpring is rising for it with its years of experience, best IVF doctors & IVF specialists, supportive staff, and advanced techniques and solutions. Why IVF fails, whether it is a failure to implant, a problem with the embryos, or problem with the uterus, this India based best yet economical IVF & Surrogacy hospital has a solution for it and that's why thousands of people trust on us. Also remember one thing that even though our very advanced best IVF – ICSI treatment in India, our IVF cost in india are very low cost and in most affordable range.
Don't go for repeatedly failed traditional Test Tube Baby treatment methods to get frustration; we have the solutions for infertile couples of Gujarat, India and International patients. Our advanced LAH treatment is best suitable for the following.
Women older than 35 years of age
The tendency to produce fewer eggs
Harder Or Thickened zona pellucid (egg coat)
Women treated with higher doses of FSH (follicle stimulating hormone)
Poor quality or slow developing embryos
Women with one or more previous failed IVF cycles
Abnormal eggshell
Before Embryo Transfer, we treat thawed embryos with laser assisted hatching in order to maximize success rates. "Embryo Must Hatch", we will make it possible and beneficial in your case, come to us.